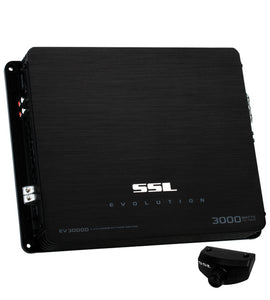 Sounstorm Class D 3000W Monoblock Power Amplifier Remote Woofer level control
Regular price $125.99 Sale
2250 W X 1 RMS @ 1 ohm
1125 W X 1 RMS @ 2 ohm
563 W X 1 RMS @ 4 ohm
3000 WATTS MAX POWER
MONO BLOCK CLASS D AMPLIFIER
1 OHM STABLE

2 X 35 AMP FUSES

REMOTE SUBWOOFER LEVEL CONTROL
LOW PASS VARIABLE CROSSOVER 50-150HZ
VARIABLESUSONIC FILTER 15-40Hz
VARIABLE BASS BOOST 0-18dB
PHASE SHIFT SELECTOR
INPUT LEVEL ADJUSTMENT
INPUT SENSITIVITY SELECTOR
LINE LEVEL INPUTS
POWER AND PROTECTION LEDS

DIMENSIONS: 10";W X 2 3/8";H X 13";L

CM 2-19-10

WARRANTY CARD INCLUDED
6 YR. WARRANTY IF PROFESSIONALLY INSTALLED BY AN AUTHORIZED SOUNDSTORM DEALER
CUSTOMER MUST SEND UNIT BACK DIRECTLY TO SOUNDSTORM AFTER THE 1ST YR.-DO NOT RETURN TO DEALER.
CUSTOMER MUST OBTAIN AN RA# BEFORE RETURNING THE DEFECTIVE ITEM.
CUSTOMER MUST INCLUDE A CASHIERS CHECK OR MONEY ORDER FOR $10.00 TO COVER FREIGHT ($30 FOR ALASKA OR HAWAII).