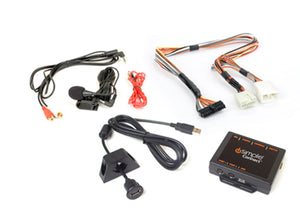 PAC iSimple Factory Radio interface for Honda and Acura vehicles
Regular price $140.99 Sale
Full control of iPhone: Wirelessly (Bluetooth) or Wired (using customers USB to Apple dock cable)
Basic Control of Android: Wirelessly (Bluetooth)
Audio playback/control, text display on factory radio from thumb drive, portable HD or other USB device
Audio playback, browsing, and song text on factory radio from iPod, iPhone, iPad device.
Built-in Bluetooth for Hands-free Calling (HFP), Audio Streaming (A2DP) and wireless Device Control Using Audio Video Remote Control Profile (AVRCP)
2.1 Amp Charging for iPad and other compatible devices.
Support for Optional HD Radio tuner (HDRT) with text displayed on Radio
Support for Optional Sirius Tuner (SCC-1) or XM Tuner (SXV100/200*) with text displayed on Radio
Auxiliary Audio input (RCA or 3.5mm) for other portable audio devices.
Plug-n-play installation

COMPATIBILITY & INSTALLATION NOTES: Please check your radio system and verify these requirements before purchasing this part]
1. Compatible with select 2004-11 Honda and Acura Radios with an ";XM"; OR ";SAT"; button on faceplate (except Civic-- see #2)
2. 2006-Up Civic: Not compatible with LX or DX Trims. Civic Radios may have an ";XM/AUX"; or just an ";AUX"; button to be compatible
3. Vehicles with ";XM NAV-Traffic"; are *NOT* Compatible.
4. HD Radio support requires the HDRT (sold separately)
5. Sirius Radio support requires the iSSR11 harness & an SCC1 tuner (both sold separately, Canadian SCC-1C is not supported)
6. XM Radio support requires the iSSR12 harness & the SXV100 or SXV200* tuner (both sold separately)

Package Contents
» iSHD651 interface adapter x 1
» Auxiliary input cable (PX35RCA) x1
» USB connecting kit (is43)
» Microphone Kit
» Instruction Manual and Installation instructions x1
» PGHHD1 (14-pin) vehicle specific harness x1.