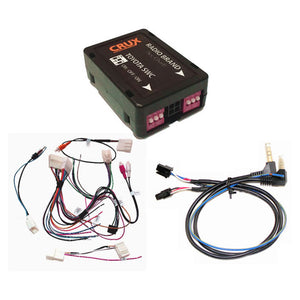 CRUX Radio Replacement w/SWC & OE RVC Retention for Toyota Vehicles 2012-UP
Regular price $76.99 Sale
The CRUX SWRTY-61N is a radio replacement interface for select Toyota vehicles.It facilitates the integration of an after-market radio to enable retention of certain factory features when replacing a factory-installed radio. This enhanced interface retains the factory rear-view (backup) camera and is also pre-programmed for retention of steering wheel controls.

Retains factory features in select Toyota vehicles while functioning with an aftermarket radio.
Pre-programmed to retain factory Steering Wheel Controls.
iPhone Voice Recognition (VR) feature from SWC on select Kenwood, Pioneer, Alpine and JVC radios.
Retains OE Rear View Camera.
Supports BT-HF/A2DP/AVRCP profile on select aftermarket radio models.
Supports Pick Up/End Call, Pick up and Toggle between 1st and 2nd incoming call, AVRCP Track, Seek.
EIA color coded wiring for easy installation.

Compatible Vehicles

Toyota
2012-Up 4Runner
2012-Up Avalon
2012-Up Camry
2012-Up Corolla
2012-Up Highlander
2012-Up RAV4
2012-Up Sequoia
2012-Up Tacoma
2012-Up Tundra
2012-Up Venza

Compatibility Notes:

*Note: Highlander vehicles without OEM Navigation radios will not retain Factory Backup Camera.